And a Little About The Humble Tree House

✨

✨

Once upon a time there was an elf princess that was a sucker for love. Or was she?

✨

✨

 

✨

✨
Well, before we dig deeper into that subject I think we should take it from the beginning – who was she, where did she come from and where did she live?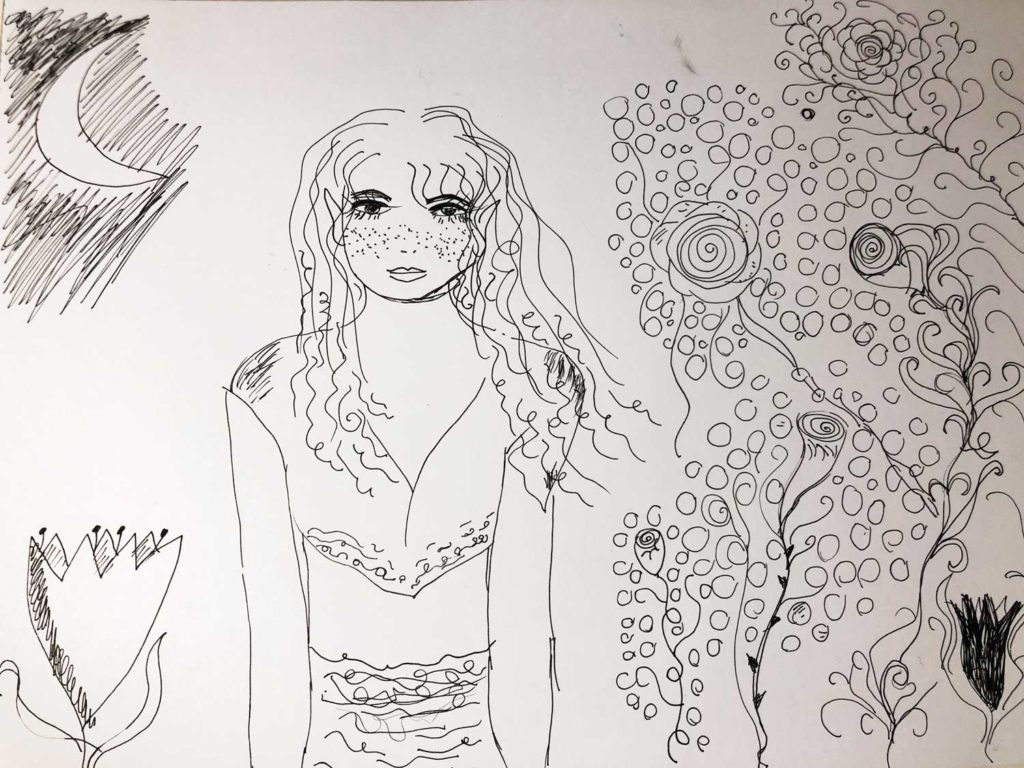 Her name was Arianwen and she was an elf from the Wise Tree clan living in the deepest forest of The North, where she also was born and raised. One of the things she loved very much was talking to the wind and the trees, the birds and the rabbits, the wild cats and the dogs.
And she lived in a beautiful tree house that could take the breath away from anyone! The tree house was however quite humble and sometimes dulled its beauty when guests arrived.
It was also a matter of a near death experience once; a guest that almost suffocated cause said guest was completely stunned by the tree house radiance. So the tree house only showed her true beauty for the elf princess, and creatures the tree knew for certain could handle her charms.
When it was hot outside Arianwen asked the tree to open it's crown to let the wind in. At nighttime those days she could see the stars in the sky above her from her bedroom. If it started to rain when she had fallen asleep, the tree enclosed it's crown above her and let it's leafs protect her, since it was a very wise, old, tree.
It was late in the evening and Arianwen usually slept at this hour, but at this particular night she was consulting with the moon.
– You really think so? That I'm a sucker for love?
– Yes, that is my unwavering opinion my dear, a sucker for love! said the moon.
– I really don't fall for every guy that flirts with me! And I'm actually quite picky. There's lots of guys I don't want – you should know that.
– Still, a sucker for love, said the moon teasing.
– Well, you might be right right that I want love. I do. I think love is one of the things that I want most of all actually. If it's good love. Someone that makes me happy, and that I make happy. But I don't know, it seems as I'm always getting hurt too much in my love stories – or I hurt a guy – or both get hurt. Maybe I should just quit my search for love.
– Is that really wise, when you said you wanted love so much, maybe most of all things?
– Maybe not. But how do you break your love pattern, moon?
– I might have something that can help, actually …
– Oh, do you have a remedy I can use? A spell, a ceremony or a prayer for finding true love?
—> To be continued! Next episode comes in June.

To know for sure you won't miss it, sign up for my monthly newsletter. I'll also post when it's out on Facebook, Instagram & Twitter. 🙂
✨
✨If you are like me and love fairy tales, you might enjoy my fairy tale inspired music and eco-friendly design products.
✨
✨ 
✨
✨

Above & below my song Poem of Love. Video created by Diana Rönnberg. Lyrics, music, song & piano: Josefin Berger. Violin, string arrangements and choir: Camilla Hedner. Producer: Marcus Larsson.

✨
✨ 
✨
✨I wish you a beautiful day ahead and
May The Fairies Be With You! <3
✨
✨
/Josefin